Our primary service is that of providing safe,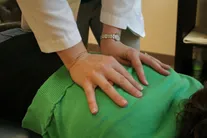 effective, high-quality chiropractic care for you and your family. While there are many different chiropractic techniques, the main 2 types to consider are manual adjustments (those done by hand) and instrument adjusting methods (those given using tools). While both are effective your chiropractor can help you select the best option to meet your needs.


Dr. Hodgson holds an Advanced Proficiency Rating in this technique, the highest available certification. She is one of only 2 DC's in Salem with this designation. This treatment is exceptionally safe and gentle. It is suited for patients of all ages and even those with osteoporosis (brittle bones).
Read more about Activator Technique from the following link.